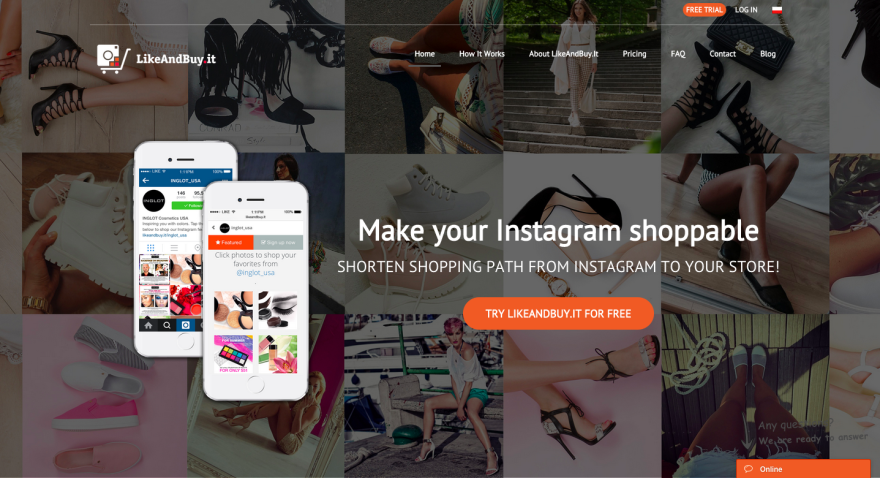 Instagram is a social media platform. Launched 5 years ago, it allows sharing of photos and videos with (now 400) millions of its users and links them to other sites like Flickr or Twitter. It was bought by Facebook in 2012. Since then, its team has been working on how to monetize the product and turn great content, the presence of brands and the involvement of users into business.
Therefore, not many things have been shown by Instagram so far, fashion brands and startuppers are using its API to build their own products, helping brands to monetize content on the platform – In our opinion, Instagram will become one of the greatest retail tools imaginable. For brands such as La Mania, it has already proven to be the leader when it comes to building desire for the brand amongst aspirational customers. Even though it might still be a bit difficult to measure its direct impact on sales, the feedback we receive from our customers confirms it's true power to sell. What is even more important is the fact that Instagram allows the audience to be well-informed, to see "things" first and therefore to have "things" first – says Karolina Gadzimska, Marketing & PR Manager at La Mania. And it has big potential because there's no such thing as 'edge rank' on Instagram (yet), and most of a brand's content is visible to followers who are more involved than Facebook users. So it's no surprise that is has become the ultimate fashion technology to communicate with fans.
Seeing the sales potential in Instagram
One of the startups which sees this opportunity is LikeAndBuy.It. Its co-founder applied (with success) for GGC Fash&Tech WAWA: RETAIL meetup, and this is how I found out about the product. LikeAndBuy.It launched in November 2014. There are only 5 people (so far) in their team and some part time sales. They all worked in social media and ecommerce, developing mobile websites and apps before launching their startup – We saw how Instagram influences the purchases and we wanted to use that potential and make shopping with the use of Instagram easier. We were inspired by some projects in the US, like the one from Michael Kors and Nike Women – says Zuzanna Śleszyńska, co-founder and CCO of LikeAndBuy.It, while having a hangout with me.
Courtesy of LikeAndBuy.It
LikeAndBuy.It shortens the shopping path from Instagram to the online store by creating a shoppable Instagram gallery and allowing followers to buy the products they liked on the platform. Obviously, Instagram doesn't want users to leave the app, so they make it hard for profile owners to publish pictures with links to external services – There's only one clickable link in Instagram's profile area, the one that you put in the description in the bio. So in this link we place a sort of copy of Instagram which is clickable, and which redirects you straight to our other website – Śleszyńska explains.
Going after the fashion industry
Pages:
1
2
3
4