I remember how a year ago I visited AngelList.com to see if there are any interesting fashion startups in the making. There was nothing interesting except for the old, well-known consumer apps and websites such as Polyvore. Not many fashion investors, either. Nowadays though, when I visited this site during the 2014 fashion month, I can see quite a difference. How does Angel.co see the global fashion industry?
2823 fashion startups have registered on the website (including ecommerce and the internet of things) and the market is growing, there were 2808 fashion startups registered during NYFW and 2823 during Milan Fashion Week
2414 fashion investors have invested in those young companies
6577 people follow the fashion startups section
277 number of positions is waiting to be filled by appropriate people
$83k yearly – that is the average monthly income in this industry
$3.9 milion – that's the value of fashion startups
How does the fashion industry see startups?
Amazing things are happening! Several fashion related hackathons will take place in the coming weeks all over the world. The Startup Weekend organization officially decided to engage in fashion. Many groups dedicated to this matter were created on Facebook in recent months e.g. Fashion startups. Not to mention all the websites dedicated to this subject (IT and fashion) e.g. Business of Fashion and Decoded Fashion.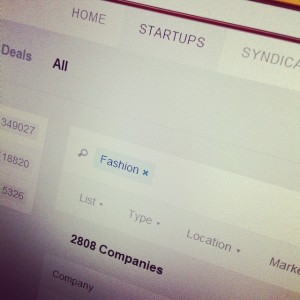 When I started Geek Goes Chic in 2011 I was the only one on the market! Due to events that took place in recent years it looks like there'll be even more fashion technology companies and luxury fashion online. New startups, websites about fashion business online. Fashion magazines writing about technology. This is the beginning!