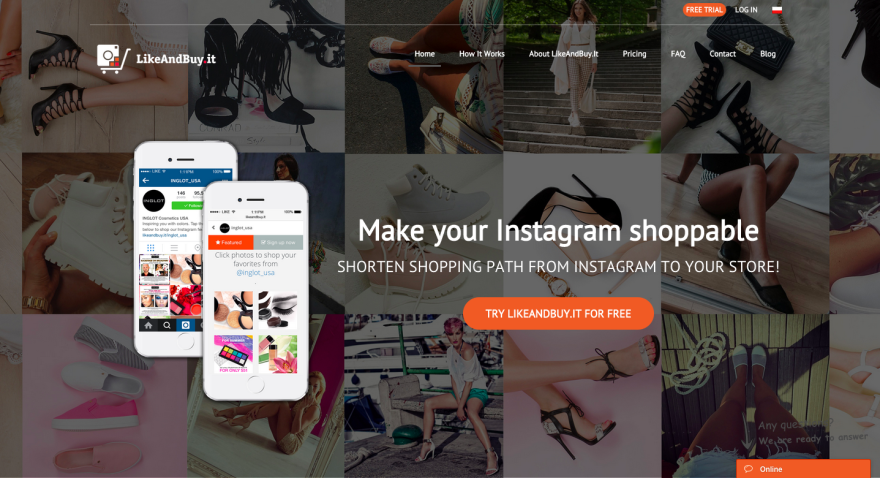 The other interesting tool that also allows followers to buy products from Instagram is Curalate, which is targeting bigger clients who are willing to spend bigger budgets like Swarovski or Neiman Marcus. There's also a project which is called LikeToKnow.It, they're an aggregate of different brands, they have their own Instagram profile, and they feature different products of different brands on it, with different stylings of bloggers or people that they cooperate with.
Will Instagram create their own shopping tool? Yes, but it will take time, probably a few years. Right now we are witnessing the adaptation of ads on the platform. Instagram started to test it along with Michael Kors, Ben & Jerry's and Maybelline in 2013. It took them two years to bring ads to the mainstream, so it will probably take much more time for them to bring a "buy now" button – Instagram has been really cautious when it comes to bringing new features. They don't want to lose users. The tools that Instagram introduces now are mostly designed for gaining new followers. What we're now doing is we facilitate the communication of the brands with their existing fans, but also with people that come and see their profiles for the first time. For now I am positive that the new features are going to bring more traffic to the profiles that we work with – adds Śleszyńska.
Similarly, it took years for Pinterest and Google to decide that they want to allow selling of products via their platforms, but what is interesting is that they announced it in a similar period of time. So, maybe it's an era when these giants from Silicon Valley started to see potential in having market places and decided to take ecommerce and mobile retail into their own hands to compete with Amazon in the US and Western Europe, Allegro in Central Europe, and Alibaba in Asia? If so, shouldn't Instagram do the same on mobile and allow a younger audience to buy via their platform? We'll see.
LikeAndBuy.It plans for the future
One way or another, the LikeAndBuy.It team seems to have their eyes open – When it comes to changes on Instagram and how it affects us – we are not only dealing with our tool but we also prepare campaigns with influencers for the companies that want to mark their presence on Instagram. It's another way of looking at marketing – says Śleszyńska – We also have another feature that enables registered customers – register in LikeAndBuy.It – to receive product mailings each time they like a photo, so they don't have to leave the app. They just click like and, after some time, they receive really targeted mailing based on their Instagram activity.
They look like an interesting startup to watch in 2016 and I would like to see them as part of a Polish startup scene that brings good quality products for customers from around the world. Just like Estimote or Base CRM. Are they going to make it? I keep my fingers crossed. They have already proven that there's a need, gained 100 client and recently applied for some external funding / accelerators and I hope they get smart money. I personally think that they should be interesting to investors like Seedcamp, which helped startups like Editd to grow, or maybe Conde Nast, which has already invested in a number of ecommerce startups, with a unicorn – Farfetch on top of the list.
Pages: 1 2 3 4