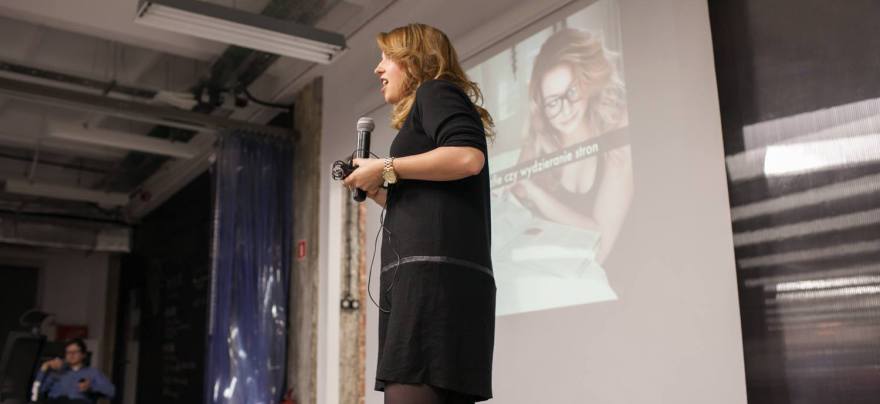 Paulina Barlik from Fashionote, was our GGC Fash&Tech speaker twice. She was talking about the application that she is currently working on and about the problems that she is trying to solve. She will tell us how does she imagine the future of fashion magazines and what role will the mobile applications play in it and how the fashion brands should be preparing themselves for the upcoming future.
Kasia Gola: As a part of the warm-up, tell us please about your product. On what stage of production are you with the product? 
Paulina Barlik: Fashionote is a mobile application created for magazines and their readers. Story behind is that I am – llke yourself – one of those people who still love to flip through pages of a printed magazine. I always find tons of stuff I like (clothing, design, shoes) and I almost always tend to forget about it when I am shopping. Best I could do – taking photos with my smartphone – did not help as they were easily lost in my Photo Stream. There had to be a better way and I knew many people were having the same problem – it was especially visible in beauty parlours where some keen shoppers teared out pages from magazines. That is why we built Fashionote – a connector between e-commerce and print magazines. With our app magazine readers' can remember and buy products straight from the page of the cooperating magazines.
KG: On what stage of production are you with the product?
PB: We have released a closed beta with the 1st magazine partner – Avanti (top shopping magazine in Poland) and will be opening and launching it for all to use in the beginning of April. There are more local Polish magazines coming up as partners, as well as in other countries. Hopefully soon not only Polish readers of Geek Goes Chic, but also those from other countries will be shopping straight from the page of their favourite magazines.
KG: Really hope that too! So what is the customer of your dreams? Can you name such a client?
Pages:
1
2
3