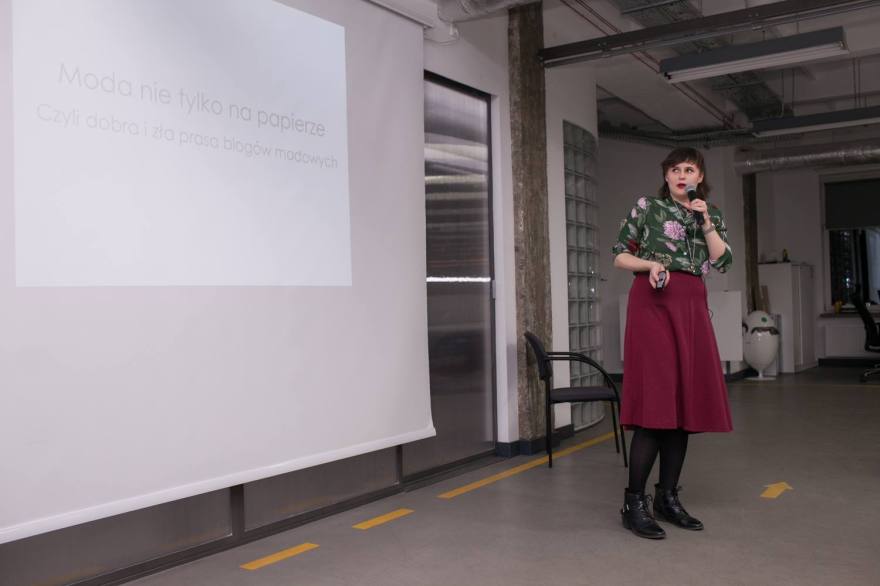 One of the first street fashion bloggers in Poland, Gabriela Francuz, gave an interesting presentation during GGC Fash&Tech Meetup in Januray. She told us about how the Polish blogosphere was developing and its relationship with the traditional press. Now, she will share her observations with readers of GeekGoesChic.Co.
Kasia Gola: Street Fashion in Kraków was one of the first fashion blogs in Poland. How was the blogosphere developing at the time?
Gabriela Francuz: Like I said during my GGC Fash&Tech presentation, I divide the history of blogging into parts I call "waves". To simplify facts and make the whole story shorter, in the beginning everyone was full of authentic enthusiasm, willing to show their outfits to the world (no matter if we had bad or good taste).
We were carefree, treating this like pure fun with no expectations that someday we would be superstars of blogging and ashamed with our previous outfits. We were not afraid of haters and criticism, unike now. We were blogging in a very close, small environment so we could meet each other face to face and talk.
Now we have social media and – because of that – much greater possibilities of contact, but (such a paradox!) I have a feeling that this contact (between bloggers) is rather rare and superficial. Many people try to make some business out of a blog, running up the blogs just for that, to monetize it. And they admit it very clearly, fun is very far from the main reasons for these blogs.
KG: Where did the trend of fashion blogging even come from?
GF: The very first fashion blogs I was reading were Agatha from Stylebytes (she was probably from Sweden and she was showing up her outfits to readers, her blog doesn't exist anymore), Facehunter (I remember when he was just taking people's portrait photos, instead of their outfits), Hel Looks (streetstyle from Helsinki), The Sartorialist of course, and as a far-eastern exception, Japanese street fashion Style Arena blog.
I suppose we can say that the idea of fashion blogging (as we know it, I don't mean professionals like Suzy Menkes here but "ordinary people", just hobbyists) comes from Europe.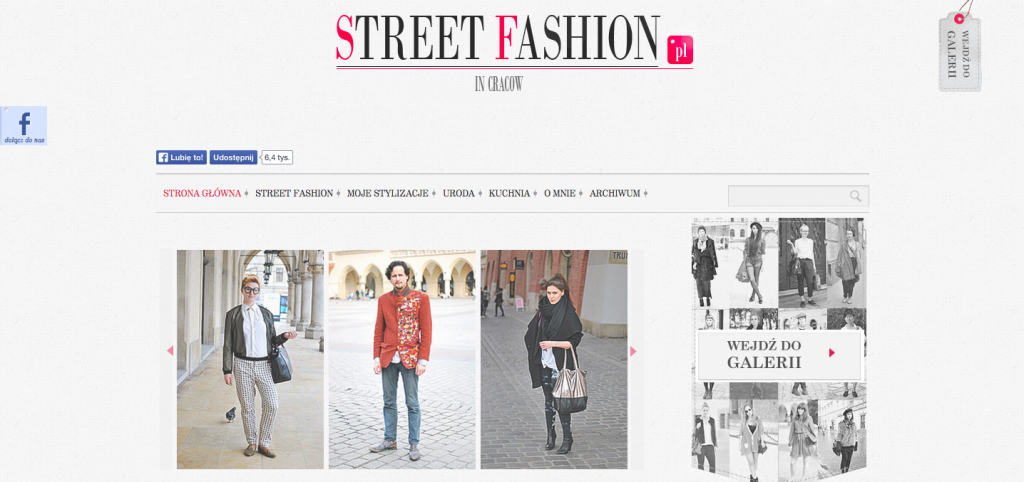 KG: The social media were not popular at the time, so where on the Internet did the bloggers share their stylizations?
GF: We had our own forum on Gazeta.pl called "Szafiarki", where we were posting updates from our blogs and if we needed help with something or just to have a discussion.
KG: Who were the readers in the year 2007? And who are they now?
GF: In 2007 we still didn't know much about fashion, it wasn't as trendy a topic as it is now, so it was us bloggers and other random people who were looking for fashion inspiration, something fresh and new on the Internet.
Now, these are the people who read Vogue, Business of Fashion, watch fashion shows, read books, pinning beautiful fashion pics on Pinterest and knowing definitely MUCH more about it. We are quite well-educated.
KG: During the presentation, you were talking about the second wave of fashion bloggers, can you tell who these girls were and what the difference was between the second wave and the first wave?
GF: The First wave started from the hobby, from passion, we didn't expect money or to be celebrities in TV commercials, we were doing things spontaneously and without a plan.
The Second and Third waves are much more focused on making money on the blog, sometimes it's even the first reason to set up the blog – it has to be monetized and profitable – somebody is setting up a blog and the first thing they do is create a price list for co-working in a "co-operation" section.
And they are paying much more attention to what their readers write in comments – it's harder to take an unpleasant comment in a stable and calm way. They're easily provoked by trolls or haters.
Sometimes outfits, and everything around lifestyle blogs and vlogs, are just "too perfect" and too affected for me. When there isn't any place for imperfection, I start to be suspicious and I don't trust such blogs.
KG: What does the bloggers life look like today? How does the relationship of a blogger work with other media?
GF: Hard to say for every blogger- when you don't have to work and you can earn some money on blogs, it's cool but you have to remember that there are good times and bad times. It's a bit harder when you're working from 9 am to 5 pm and the blog is your second life, after 5 pm.
I think bloggers are still learning to talk to other media and clients (because brands who want to co-operate with them are their clients, or just partners in business). Bloggers tend to understand that the possibility of the next interview or co-working is dependent on the way they communicate with media and brands.
Many of them are still passionates and people who you can talk to, many of them think in a business way, but with good intentions – for example, they will not decide to co-work when the product doesn't fit their blog at all.
KG: How do you see the blogosphere in 5 years?
GF: Hard to say, but I think many people will start to treat blogs as the beginning of a professional job in a fashion trade, as a "springboard" to it. They will not leave their blogs, but they will treat them as an addition, as a form for creating themselves as professionals, personalized experts after-hours from their "serious" jobs.