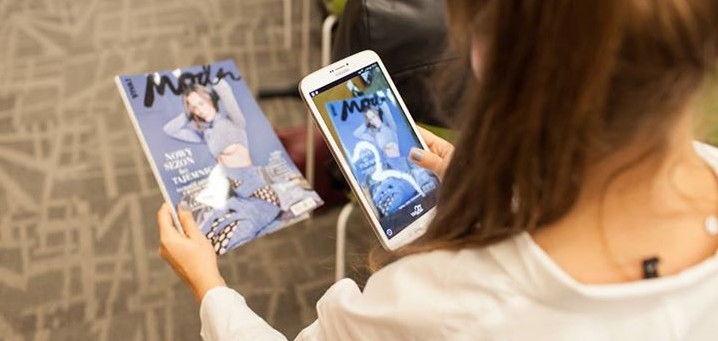 Polish fashion brand Hector&Karger are showing and marketing their AW 15/16 collection by using augmented reality. Making use of Tap2C technology and cooperating with HTC, Viva! Moda and Estee Lauder they have created a 'lookbook' called RE_ALITY.
How does it work? Their newest collection was premiered on Viva!Moda, and any reader interested in buying clothes straight from the magazine or in seeing them in 3D may do this by following a few simple steps:
the reader scans the Viva! Moda cover with Tap2C (installed on his/her smartphone),
watches Hector&Karger photo shoot through the app,
touches (taps) the screen to rotate a model or
to select the item he/she wishes to buy (it might be a clothing, a smartphone or a cosmetic).
  The augmented RE_ALITY lookbook was then made available online at Elle.pl, where it worked in much the same way as in Viva!Moda magazine. The designers have also created an interactive display which was shown in Stary Browar during the Art and Fashion Forum powered by Grażyna Kulczyk. The photoshoot was created by using an installation consisting of 80 cameras all shooting simultaneously – says producer Mateusz Kaczorowski of 'House of Duck.' Thanks to this technology artists were able to show the model's body from every angle. Photographs were used to texture the 3D models. The Project took 7 months to realise from the initial research to the publication of the photos in Viva! Moda – said Mateusz Kaczorowski during GGC Fash&Tech on October 22. 
Augmented reality and fashion magazines
Pages:
1
2
3