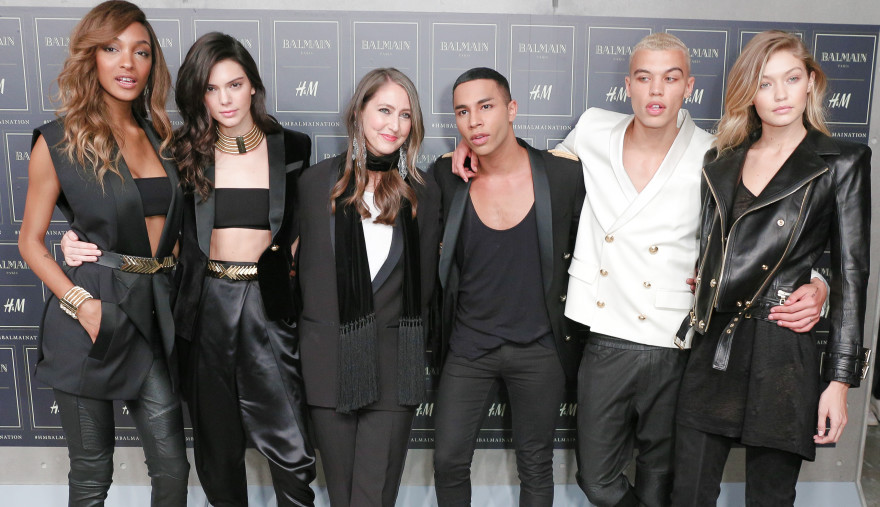 I was in Dublin at Web Summit when the Balmain x H&M collection had its premiere. The same day, I went to H&M to check and maybe buy a piece, but as I found out – there was only a simple white bra left. It shouldn't have shocked me as it did, because the day before I saw hundreds of people standing in line just to be first at the day of the premiere, I was just reaching my apartment in Temple Bar, so I laughed a little bit and didn't treat it too seriously. I was pretty impressed when the next day I found out there were no pieces left for me. There have been many collaborations, but none of them seemed to be as popular as this one. The question is, why?
Balmain x H&M collection wasn't cheap at all. At their prices one could have bought Rebecca Minkoff items, and at the prices the collaboration achieved in online market places like Allegro, eBay or Amazon you could have easily bought clothes from "real" Balmain collection. The 2014 Alexander Wang collaboration items went for 3 – 5 times the regular price at H&M. While the Balmain one reached 6 times the retail price.
Is there something wrong with this world?
Combining social with traditional really pays off
Balmain made a very risky, but the best possible, choice by hiring Olivier Rousteing in 2011. At that time, he was 24 and had been Christophe Decarnin's successor as Creative Director of this legendary brand. It was a risky choice indeed because Balmain was always a conservative fashion house and Rousteing is a typical Millennial. But it paid off. The designer bet on a strong social media presence and became a friend of the most influential people in the celebrity-fashion industry, people like Kim Kardashian, Jenner sisters, Jennifer Lopez and Rihanna.
This gave the brand plenty of media coverage and a huge Instagram popularity. On the other hand, Rousteing is also very diversity-oriented and hired models with various skin colours, from Gigi Hadid to Joan Smalls. This gave him a lot of love from diverse fashionistas from the US and western Europe. And that resulted in a huge popularity in Balmain x H&M collaboration. And here are some numbers:
Pages:
1
2
3