When I read on the Internet about Scarfie Emilio Pucci app, I thought: what a great idea! To use Internet trends on selfies and then engage the clients of the e-commerce and broaden the knowledge about trends.It is also a great idea due to an opportunity to increase the sales of the accessories. After all, apart from perfumes, they generate the biggest income for luxurious fashion brands.
Then I downloaded the application and got sad. I expected a cool application which puts the filter in the colours of neckerchiefs or which is a different creative adaptation of the newest trends set by Pucci. What a disappointment. The app allows you to virtually try the neckerchief on. By the means of 'drag and drop' you can 'wear' it.
However, it is not the only reason why I don't like this application:
User Experience – UX –  is, to say the least, not very well-thought. You need to take billion steps to take a photo and try on the neckerchiefs. Secondly, it took me ten-odd seconds to understand what each step was even all about. Thirdly, unfortunately, once I have chosen a neckerchief and taken a photo, I cannot change my choice.
Social Icons- look very bad. Moreover, the application has not detected my Twitter account.
Share with Pucci – but why would I do it? Is it some kind of competition? Is that some sort of Pucci's social media? If anyone knows, it is definitely not me (maybe PR people from Pucci?).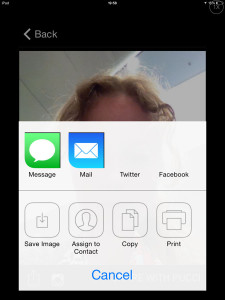 Ok, but to be objective – I must admit that the application is a cool PR action and campaign idea for Pucci. The information concerning it is to be found, for example, on instyle.com. If there wasn't such an app, I would not know, as a plain consumer of fashion, what kind of neckerchiefs are currently recommended by Pucci fashion house.. And actually, I really like it!