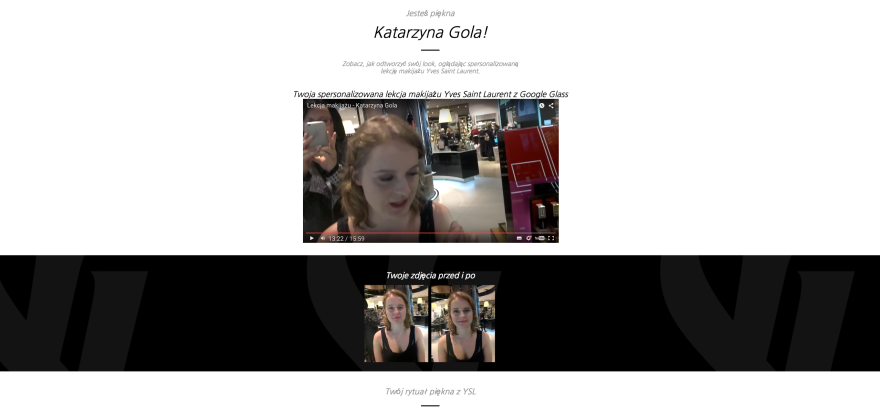 And I liked it.
I knew that Google has decided to pivot it's Glass project into more commercial and b2b paths and I was sick of people telling me that "Google Glass is dead". That's why I was happy when I found out that they teamed up with Yves Saint Laurent and Douglas to create personal make-up lessons for everyone who wants it (lives in one of the chosen cities and is lucky enough to 'get on the list', because the line is long).  This November it finally came to Poland – Douglas store in Akradia, Warsaw, so I decided to give it a try and see how it looks like from a customer point of view.
Lady who was doing my make-over, did a great job, covering the effects of three events that have occurred in the 2 days and 3 almost sleepless nights that preceded my make-up lesson:
What I really enjoy about it is that YSL/Douglas team sent me my video almost instantly, uploaded as a private on YouTube. Where I am able watch and hear the makeup artist putting my make-up on, so I can copy it anytime. Under the video there is a "before and after" and a list of products used to make me up. There was no pressure in Douglas to buy these cosmetics, because I am allowed to buy them on Douglas e-commerce. Everything together makes a perfect sense  for both me as a woman and Douglas/YSL as producer/retailer.
It's not the first time when Yves Saint Laurent Beauté used Glass to increase customer experience with the brand. They already tried it in a carefuly chosen places, like Selfridges in London. The idea is interesting and is far more than just a PR campaign for the company. It helps YSL to measure what happens after clients leave Douglas or any other store. It measures clients' behaviour online (yes, they have your email and know who you are) and on their website, which is much easier than measuring it in the real world. It attracts customers to e-commerce and increases sales. There's no number on this particular campaign, but no wonder that L'Oreal (YSL Beauté owner) is the best beauty brand in digital, according to L2 Inc.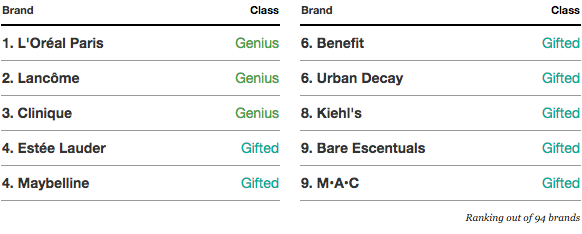 Source: L2 Inc.
Pages:
1
2