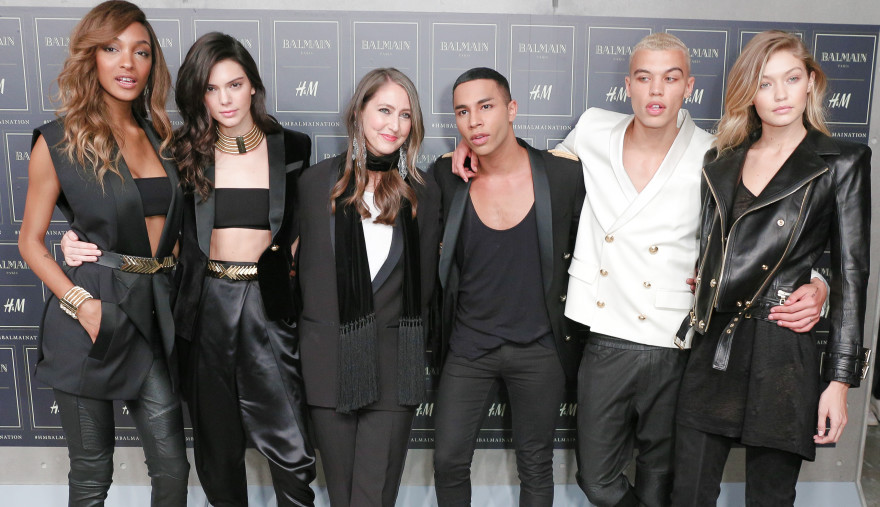 Kylie Jenner's (+41m followers on Instagram) post from Balmain x H&M show and party in October 2015 had from more than 900k to more than 1.2 m likes on Instagram. Her sister – Kendall Jenner's (+40m followers) announcement of being a part of H&M x Balmain campaign reached 654k likes and every other post reached from more than 500k to more than 700k likes on this app. This resulted in about 78,5k #HMBALMAINATION uses on Instagram so far (and Calvin Klein's #mycalvins which has lasted from the middle of 2014 has 185k) and it only started just about 2 months ago. According to hashtagify.me, Kylie Jenner was the one who was the most influential on Twitter (even more than H&M and H&M USA social media accounts) when it comes to #HMBALMAINATION reach, even though it was her sister who became the face of this collaboration.
Somehow, Rousteing managed to combine this social omnipresence with traditional craftsmanship in his regular Balmain collection, and the sense of it in the H&M collaboration. It made most of these clothes "look" expensive, no wonder it became so highly demanded and pricey on marketplaces such as eBay, Amazon or Allegro. The most successful reseller on the last of these sites had about PLN 36k in revenue (more than USD 10K) – so it was a good investment for him.
To sum things up, what gives designer a great designer x H&M collaboration:
being a Millenial (cause you're targeting to H&M clients and followers, who are Millenials),
acting risky,
having super influential friends (so consumers want to get a piece of them) who are strong personas on social media,
being a social media ninja yourself,
giving a tradition in almost a fast-fashion-price (or at least acting like it's more affordable).
Image: Dudley O'Shaughnessy, Gigi Hadid, Olivier Rousteing, Kendall Jenner and Jourdan Dunn wearing Balmain x H&M at the launch event on October 20, 2015 in New York City (Photo by Matteo Prandoni/BFA.com For H&M), Copyright: BFA // H&M Press Release
Pages:
1
2
3