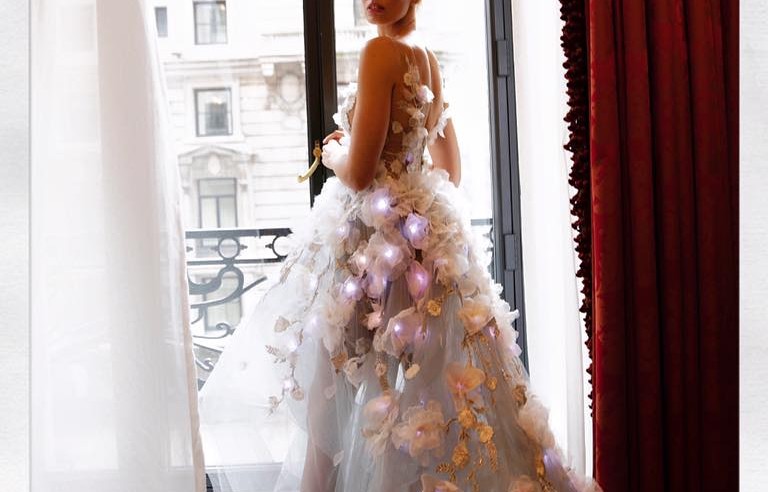 Judging from the photos which appeared online, the exhibit was a collection of clothes which in some way included (broadly understood) new technologies. Looking through those photos, I started wondering if maybe I had misunderstood the theme of the exhibit. Of course, there were some inspiring projects… but I just can't see how Karl Lagerfeld's wedding dress for Chanel was relevant to the theme (it is a work of art, but is it a work of technology?). Especially since it was created in 2014. Except for evident artistic and visual merits, I couldn't see any connection to the main theme, I'm sorry.
Head curator of the Costume Institute – Andrew Bolton – told BoF 'Fashion has always been the first to embrace technology, right from the get go'. My God, I disagree so much. Regretfully, fashion is one of the few industries still making little use of new technologies. Of course one and the other are closely connected, which I am trying to prove on my blog (and #ggcmeetup.s!). The fashion industry needs to be inspired to integrate fully with technology. However, my experience and observations show that the fashion industry likes to think it is just friends with new technologies. There are few examples of any innovative use of new technologies in fashion. The whole industry is by and large very traditional. I think the Met Ball is proof of that. (I know it all sounds pessimistic, but our job is to bring more technology into fashion!).
But wasn't there any technology?
With practically no innovation on the red carpet (with the exception of 3 praiseworthy examples, the Apple Watch parade, and Katy Perry's Tamagotchi) and the exhibit, it is not the case that new technologies were completely absent. If we look at the event in a broader light, there was plenty:
the whole event was covered and live-streamed on Vogue's new app,
a lot of backstage photos appeared on Snapchat
the brightest stars of Instagram appeared at the gala: Selena, Taylor, the Kardashian-Jenner clan, Beyonce,
the presence of Apple representatives is significant, we always appreciate fashion tech marriages, especially when two iconic brands are involved: Apple and Vogue.
In conclusion [or tl;dr]: the Met Gala was very successful as a social and media event. By 'media' I mean mainly the outreach and channels used by the guests and organizers, but when it comes to the era of new technologies… it is yet to come.
Pages: 1 2 3