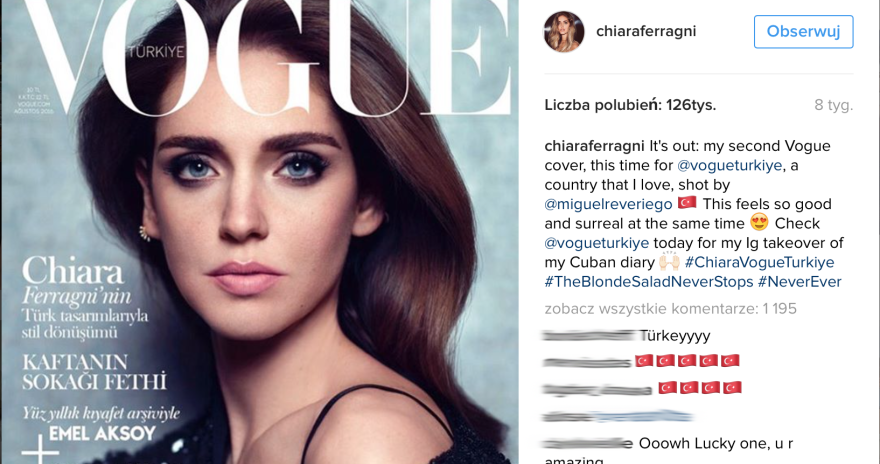 For many years, I have been a great fan of Vogue as a magazine, a legend that drives fashion forward. The magazine has always been great at using data and the way in which society changes in order to create culturally appropriate articles and photo sessions. I wrote my Bachelor's thesis on the image of women who read Vogue in the USA, France, and Russia. I then wrote my Master's thesis on the transformation of the fashion press based on the American Vogue.
This is why I would like to speak up, as I do not understand the stance taken by the editors of the magazine, especially because I have been attempting to monitor the magazine 'professionally' since 2008. Bloggers a superpower in fashion industry and I'm sure that magazine's editors know that. I am not a fashion blogger, but a market researcher in the context of new technologies. I haven't been hurt personally by the comments directed at fashion bloggers, but I do find them completely irrational and I will attempt to tackle this.
Bloggers are a superpower in fashion
1. Fashion bloggers have been your inspiration for the development of vogue.com since the very beginning. They have also been your motivation for becoming the largest online fashion medium.
Bloggers are a force brought about by new technologies. They are also the driving force behind the evolution of the press – because of bloggers, magazines such as Vogue are motivated to constantly grow and develop globally. Had it not been for bloggers, the American Vogue would have probably never taken the vogue.com domain from the British Vogue and would never have started to develop its own website (note: Vogue UK had used the vogue.com domain from 1994–2009, it's still hard to visit American Vogue website when in Britain because vogue.com leads users to vogue.co.uk).
Vogue online – history
I would like to recount some data; style.com launched in 2000, when the blogosphere was already developing and it was clear that the fashion industry would not go unaffected by it. That had become fact in 2002, but you were unable to keep up with blogs until 2009, when you started to develop vogue.com. You started approaching this seriously in 2010, when Caroline Palmer and her team made a great website for vogue.com, which even received a Webby award (which inspired me to start this blog in 2011!). Your scope has been growing since then. Just before the publication of the new website in 2010, you had approx. 360K users per month. In summer 2010, you had 916K views per month.
Bloggers – the new competition
They have indirectly allowed Vogue to develop globally, to create a modern website and to reach 8.5 million average monthly online audience. Of course, that has been made possible by the hard work of the analysts, editors, and marketers, but it was the bloggers who motivated you to act, it is because of the bloggers that the world has changed, along with the customers' approach to fashion.
Had it not been for the bloggers, you would have stopped at a circulation of approx. 1.2–1.3 million magazines sold per month (as those have been your average sales figures for nearly 30 years based on your historical mediakits). That number was impressive in 1988, when Anna Wintour took over the magazine, but in 2016 (in the era of the Internet), it fails to impress anybody (yes, this is being said by me – someone with several thousand reach per month, but let's be honest… my target audience is slightly narrower). You should thank the bloggers for starting to kick your butts in terms of scope. That's what has brought you to the top which is even more difficult to reach.
2. You use the scopes of the bloggers to create traffic for yourselves, but also to sell your magazines. You often act like bloggers.
Granted, the American Vogue has never put a blogger on its cover (I don't think). But Teen Vogue has, and your international magazines use their scopes repeatedly. Of course, the American Vogue online is insanely popular. The British Vogue is also incredibly mighty, but other local magazines don't actually do as well as bloggers, so they attract them with their brand in order to gain better scopes (isn't such cooperation beautiful?). Thus, many covers feature bloggers as well as bloggers' street pictures (including those from fashion weeks).
But that's not all – many of your current, but also archival sections, have been blog-like (my favorites are the materials produced by Hamish Bowles – great job! I also liked how you looked into your editors' closets… those were really blog-like activities.). Today, you do the interesting "Italian/French girl guides…" – that is so blog/vlog-like. Street style as well. Had it not been for the blogs, you probably wouldn't have "10 best beauty/fashion looks" either… because it was the bloggers who were doing such things online first. Thank them kindly for inspiring you, would you?
Chiara Ferragni – fashion blogger with 6,7 mln followers on Instagram. She was on multiple covers so far, including Vogue Italia (1 M followers on Instagram), Vogue Turkiye (+271K followers) and Vogue Mexico (less than 380K followers). Vogue Mexico: less than 380K followers on Instagram (September 29, 2016) :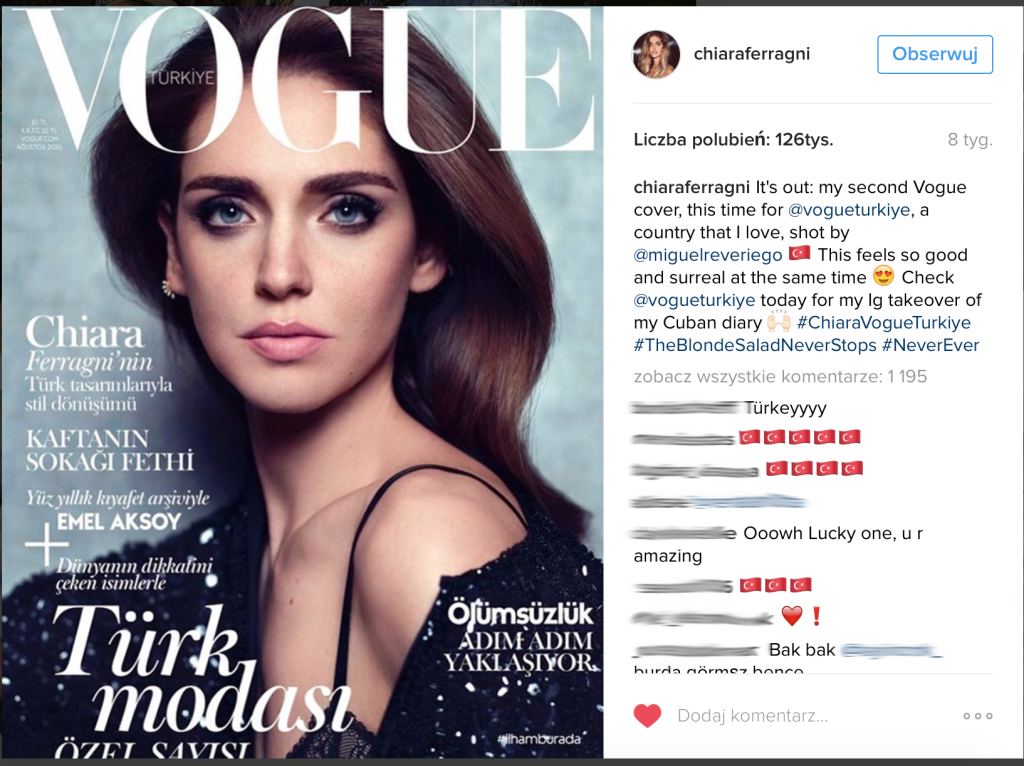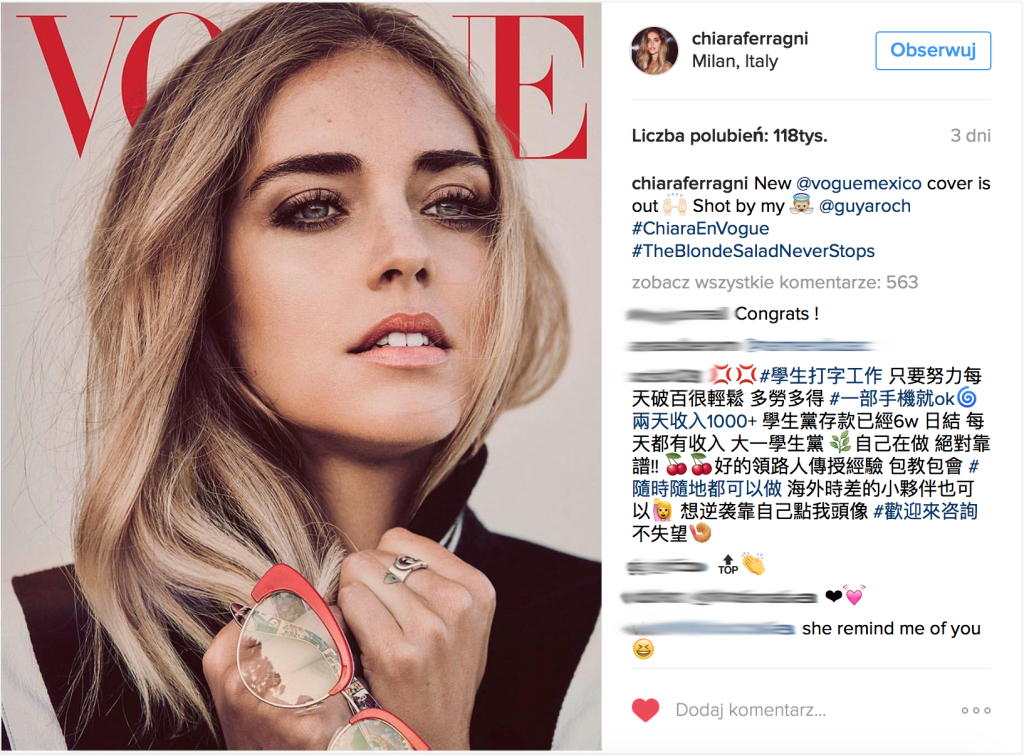 3. Have you ever wondered why bloggers are so influential?
Society is changing. It's the dawn of the participation culture and of the sharing economy. Sociologists and culture experts can see this (I recommend Henry Jenkins's books, he's a genius). Bloggers are a sign of this. Just like Airbnb and Uber. Today, it's no longer about elitism and possession. It's about sharing information and about making sure that the information is reliable. Although Vogue is an incredibly opinion-forming magazine which I respect greatly, the modern teenager pays more attention to influencers, with bloggers (often) counting among them. Bloggers have been able to build their own brands from the ground up. And that's what lends them credibility.
What matters for the new generation of consumers (late Millennials and the Generation Z) is that the message be true and the opinions not bought. The message must be explained to the new generation. And even if the opinions are bought, they must be aware of that. And they are. On their Snapchats, many bloggers talk about what they've received, whom they are cooperating with, and what they recommend personally. No secrets there. And 77% of college students in the USA use Snapchat every day. 93% of them go on YouTube at least once per week. 76% of American teenagers are on Instagram.
That's where the bloggers are, they have been developing these channels (and they were often there before you – when did you launch your Snapchat…? A month ago?). Influencer bloggers explain fashion better than stylists and models, which is why you back yourselves up with their pictures and traffic. You sell dreams, while they make us believe that those dreams are achievable.
Other arguments that you should consider:
Bloggers inspire fashion. Future trends often come from the street and from the blogosphere (take a look in the WGSN);
Celebrities become bloggers by running their social media like blogs – are you going to prohibit them from participating in fashion weeks as well?
Good and consistent bloggers become celebrities. Sports, music, and cinema are not the only roads to fame. The Internet is also one of them;
Fashion weeks are narrow, but it's not the bloggers' fault. They are needed and it's great that brands cooperate with them – it's the fashion weeks' fault that they are unable to adapt to market changes. The market must change along with the consumers' needs.
I truly hope that you will keep making Vogue as good as it is now, but show more understanding toward bloggers. They are here to stay. Bloggers are a superpower. They have devoted followers.  You must accept this, and you most definitely need to take this into consideration and treat them seriously.
Love!
Kasia